Sarmady Bags 7 Awards from 5 Sites at Egypt's Webbys
Posted on: Jul 1, 2010, at 04:52 AM
During Egypt Web Academy Awards 2010 Sarmady was awarded 7 times for their websites.



The outstanding website ChipsyEgypt.com received 3 awards among which the Diamond Award for the Best Website in Egypt in 2010, Best Programming of a Website and Best Trade & Retail Website.

In the same category, Trade & Retail, Sarmady was awarded the Bronze for DewEgypt.com.

Youm7.com, site developed by Sarmady in 2008, received the Gold Award for Media and Press.

Sarmady also picked up 2 more Bronze awards.

ChipsyEgypt.com is part of the digital marketing campaign Sarmady is running for Chipsy Egypt which registered a huge success so far. The website received over 840,000 flavor suggestions submitted by users and through the interactive game "Design Your Pack" they generated more than 26,000 designs for Chipsy pack.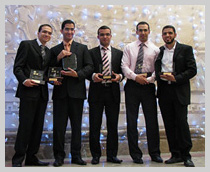 Read also: