622 Promotion
Posted on: Jan 12, 2012, at 08:30 AM
For a limited time only, Sarmady is offering a 50% discount on online advertising for products and services that are made in Egypt. Both Egyptian and international companies qualify as long as their products are made in Egypt.

After the success of our Buy Egyptian Day offer (click here to see results), Sarmady has decided to continue the theme of supporting Egypt and its economy through the new 622 Promotion by offering advertising inventory at 50% off of normal rates.

Companies that qualify for this limited special offer can reach millions of daily visitors on Sarmady's network from January 25th through February 11th.
The network of websites is: FilGoal.com, FilFan.com, ContactCars.com, Mujaz.me and FilBalad.com.

Below, are the specifications for the type of banners available for this offer: Leader Board and Medium Rectangle.
• Leader Board 728x90 pixels
• Medium Rectangle 300x250 pixels
Banner's size should be 40K maximum.

Discounted price for this campaign is 3.5 EGP/ 1000 views of the ad.

Contact us now at sales@sarmady.net to set up your discounted campaign!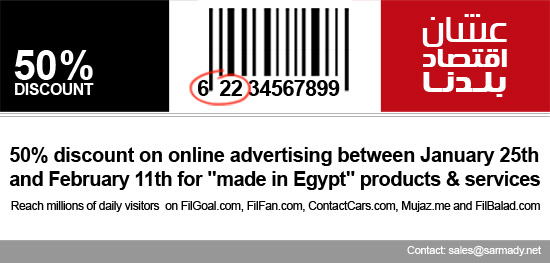 Read also: